Back To Menu
Meals 20-25 served with Hashbrown Sticks and Choice of 16 oz Coffee, 20 oz drink or 8 oz Milk.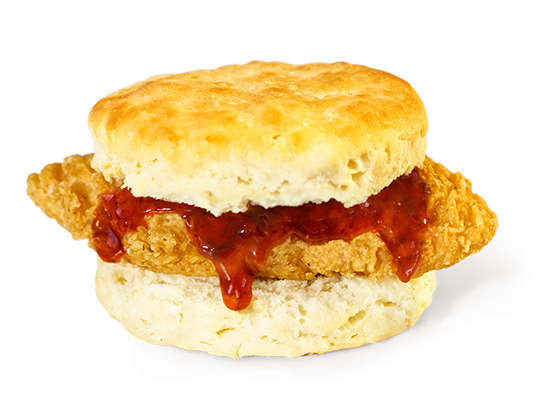 SPICY STRAWBERRY CHICKEN BISCUIT
Another reason to join us for breakfast.
Our new Spicy Strawberry Chicken Biscuit is a little sweet, a little spicy and really tasty. We take one of our juicy, breaded chicken strips, top it with our brand-new Spicy Strawberry jam and put it all on one of our flaky buttermilk biscuits.
*Available only for a limited time.
Spicy Strawberry Chicken Biscuit
162Weight (g) 520Calories 220Calories from Fat 24Total Fat (g) 9Saturated Fat (g) 0Trans Fat (g) 25Cholesterol (mg) 1050Sodium (mg)
62Carbs (g) 2Dietary Fiber (g) 13Protein (g) 20Sugars (g) 6Vitamin A (% DV) 20Vitamin C (% DV) 9Calcium (% DV) 14Iron (% DV)
Allergens:
Milk
Wheat
Soy
Gluten
Ingredients: Buttermilk Biscuit Ingredients: Enriched, Bleached Wheat Flour (Wheat Flour, Malted Barley Flour, Niacin, Reduced Iron, Thiamine Mononitrate, Riboflavin, Folic Acid), Buttermilk (Cultured Low Fat Milk, Nonfat Dry Milk, Food Starch, Salt, Carrageenan, Pectin), Palm Oil, Biscuit Concentrate (Leavening (Sodium Bicarbonate, Sodium Acid Pyrophosphate, Sodium Aluminum Phosphate), Salt, Sugar, Dextrose, Bleached Enriched Flour (Wheat Flour, Niacin, Iron, Thiamine Mononitrate, Riboflavin, Folic Acid), Calcium Propionate, Calcium Sulfate, Soybean and /or Cottonseed Oil, Guar Gum), Soybean Oil, Artificial Butter Flavor, Potassium Sorbate, Sodium Bicarbonate. Liquid Margarine: Liquid and Partially Hydrogenated Soybean Oil, Water, Salt, Vegetable Mono & Diglycerides, Soy Lecithin, Sodium Benzoate (a preservative), Citric Acid, Artificial Flavor, Calcium Disodium EDTA added to protect flavor, Beta Carotene (color), Vitamin A Palmitate added.Spicy Strawberry Jam :Sugar, Strawberries, Strawberry Puree Concentrate, Water, Red and Green Jalapeno Peppers, Contains 2% or Less of: Salt, Acetic Acid, Citric Acid, Pectin, Natural Flavor. Chicken Strips: Contains up to 12% of a solution of Water, Isolated Soy Protein, Salt, Sodium Phosphates. Battered with: Water, Bleached Wheat Flour, Salt, Leavening (Sodium Bicarbonate, Sodium Aluminum Phosphate, Monocalcium Phosphate), Spices, Partially Hydrogenated Soy Bean Oil, Garlic Powder, Onion Powder, Extractives of Black Pepper. Pre-dusted and breaded with: Bleached Wheat Flour, Salt, Leavening (Sodium Bicarbonate, Sodium Aluminum Phosphate, Monocalcium Phosphate) Spices, Partially Hydrogenated Soy Bean Oil, Garlic Powder, Onion Powder, Extractives of Black Pepper. Breading Set in Vegetable Oil. Contains: Wheat, Soy
Spicy Strawberry Chicken Biscuit Whatameal®
695Weight (g) 710Calories 320Calories from Fat 35Total Fat (g) 10Saturated Fat (g) 0Trans Fat (g) 25Cholesterol (mg) 1560Sodium (mg)
83Carbs (g) 4Dietary Fiber (g) 16Protein (g) 20Sugars (g) 6Vitamin A (% DV) 20Vitamin C (% DV) 10Calcium (% DV) 15Iron (% DV)
Allergens:
Milk
Wheat
Soy
Gluten
Ingredients: Buttermilk Biscuit Ingredients: Enriched, Bleached Wheat Flour (Wheat Flour, Malted Barley Flour, Niacin, Reduced Iron, Thiamine Mononitrate, Riboflavin, Folic Acid), Buttermilk (Cultured Low Fat Milk, Nonfat Dry Milk, Food Starch, Salt, Carrageenan, Pectin), Palm Oil, Biscuit Concentrate (Leavening (Sodium Bicarbonate, Sodium Acid Pyrophosphate, Sodium Aluminum Phosphate), Salt, Sugar, Dextrose, Bleached Enriched Flour (Wheat Flour, Niacin, Iron, Thiamine Mononitrate, Riboflavin, Folic Acid), Calcium Propionate, Calcium Sulfate, Soybean and /or Cottonseed Oil, Guar Gum), Soybean Oil, Artificial Butter Flavor, Potassium Sorbate, Sodium Bicarbonate. Liquid Margarine: Liquid and Partially Hydrogenated Soybean Oil, Water, Salt, Vegetable Mono & Diglycerides, Soy Lecithin, Sodium Benzoate (a preservative), Citric Acid, Artificial Flavor, Calcium Disodium EDTA added to protect flavor, Beta Carotene (color), Vitamin A Palmitate added.Spicy Strawberry Jam :Sugar, Strawberries, Strawberry Puree Concentrate, Water, Red and Green Jalapeno Peppers, Contains 2% or Less of: Salt, Acetic Acid, Citric Acid, Pectin, Natural Flavor. Chicken Strips: Contains up to 12% of a solution of Water, Isolated Soy Protein, Salt, Sodium Phosphates. Battered with: Water, Bleached Wheat Flour, Salt, Leavening (Sodium Bicarbonate, Sodium Aluminum Phosphate, Monocalcium Phosphate), Spices, Partially Hydrogenated Soy Bean Oil, Garlic Powder, Onion Powder, Extractives of Black Pepper. Pre-dusted and breaded with: Bleached Wheat Flour, Salt, Leavening (Sodium Bicarbonate, Sodium Aluminum Phosphate, Monocalcium Phosphate) Spices, Partially Hydrogenated Soy Bean Oil, Garlic Powder, Onion Powder, Extractives of Black Pepper. Breading Set in Vegetable Oil. Contains: Wheat, Soy
This Goes Great With