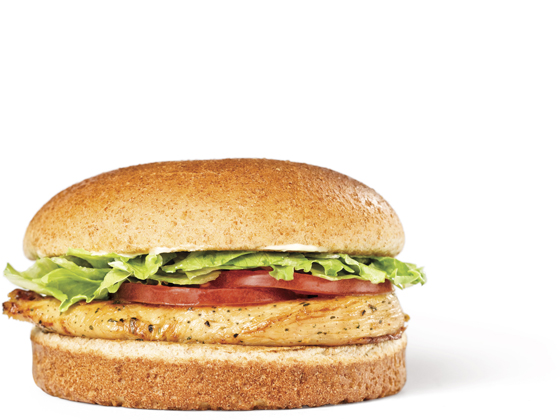 GRILLED CHICKEN SANDWICH
The lighter side of Chicken.
Marinated 100% chicken breast grilled to perfection and served with fresh lettuce, juicy tomatoes and mayo, on a whole grain bun. Add apples and a diet drink for only 30 calories more.
Grilled Chicken Sandwich

The lighter side of Chicken.
Grilled Chicken Sandwich
278Weight (g) 430Calories 120Calories from Fat 13Total Fat (g) 3Saturated Fat (g) 0Trans Fat (g) 95Cholesterol (mg) 1040Sodium (mg)
49Carbs (g) 8Dietary Fiber (g) 35Protein (g) 13Sugars (g) 11Vitamin A (% DV) 13Vitamin C (% DV) 12Calcium (% DV) 16Iron (% DV)
Allergens:
Egg
Wheat
Soy
Gluten
Ingredients: Whole Grain Wheat Bun: Whole wheat flour, water, sugar, wheat gluten, wheat bran, yeast, contains 2% or less of each of the following: soybean oil, dough conditioners (contains one or more of the following: sodium stearoyl lactylate, calcium stearoyl lactylate, monoglycerides and/or diglycerides, calcium peroxide, calcium iodate, datem, ethoxylated mono-and diglycerides, enzymes), salt, natural and artificial flavors, corn flour, wheat starch, calcium propionate (to retard spoilage). Can also contain calcium sulfate, potassium iodate, and soy lecithin. Toasted using bun oil. Note: Made in a bakery that may also use milk, eggs, and tree nuts. Bun Oil: Soybean oil, soy lecithin, natural and artificial flavor, TBHQ added to protect flavor, beta carotene (color), dimethylpolysiloxane, an anti-foaming agent added. Light Mayonnaise: Soybean oil, water, high fructose corn syrup, whole egg, distilled vinegar, food starch-modified*, contains less than 2% of: salt, spices, natural flavors, dehydrated garlic*, dehydrated onion*. *Ingredients not normally found in mayonnaise. Fully Cooked Grilled Chicken: Boneless, skinless chicken breast, water, seasoning (salt, maltodextrin, spice, dehydrated cilantro, natural smoke flavor, grill flavor [from partially hydrogenated cottonseed and soybean oil], modified corn starch, corn syrup solids, spice extractives, artificial flavor), soybean oil, seasoning (modified food starch [modified corn starch], salt, flavoring), sodium phosphates. Iceberg Lettuce: U.S. No. 1 crisphead (Iceberg) lettuce. Tomato: U.S. No. 1 tomatoes coated with vegetable-, petroleum-, beeswax-, and/or shellack-based wax or resin.
This Goes Great With