Community Highlights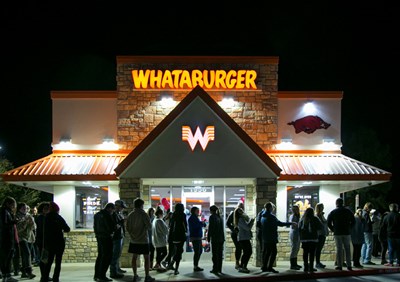 HBCB Break
Fayetteville, Arkansas | December 5, 2016
---
Unit 1086, 1956 W. Martin Luther King Blvd. in Fayetteville, Ark., gave away more than 1,000 Honey Butter Chicken Biscuits to hungry students at a Midnight Study Break event last week. University of Arkansas students took a break from prepping for finals to visit the store at midnight, enjoy an HBCB, and hang out with friends.
From The Fans
twitter

@Whataburger would it be legal to marry you ? For like the food forever ? Makayla?
Reno

twitter

@Whataburger would hit the spot right now. Juan Alegria


twitter

In a relationship with @Whataburger sarah de la fuente


twitter

90% of the tweets I've seen in the past hour have been related to @Whataburger #MuchLove Eric Longoria ?